Aufbauend auf einem günstigen Bausatz, führt die Dokumentation Schritt für Schritt über passende Tiefpassfilter und einem maßgeschneiderten, 3D druckbaren Gehäuse zu einem praxistauglichen Fertiggerät. Insgesamt findet man mit Bauteilkosten von knapp 50 € das Auslangen und kann das Gerät nach Vorliegen von Bausatz, Platine für Tiefpassfilter, sonstigen Bauteilen und gedrucktem Gehäuse in rund 6 bis 8 Arbeitsstunden fertigstellen.
Die wesentlichen Leistungsdaten im Überblick:
Versorgung 12 – 14 V DC (max. ca. 8 A)
Optimale Eingangsleistung 2 bis 2,5 W
Ausgangsleistung 30 bis 50 W
Optimiert für Betrieb von 40 m bis 20 m
Manuelle Bandumschaltung
Ausreichende Unterdrückung von Oberwellen
Effizienz ≈ 45%
Passive Kühlung, vorbereitet für Ventilator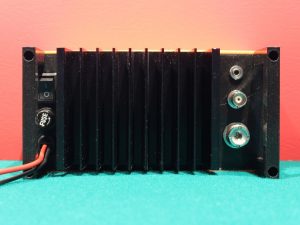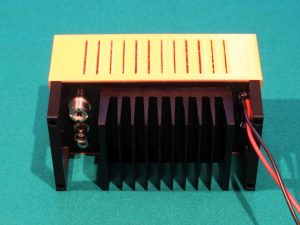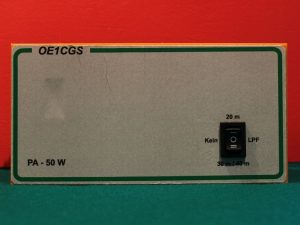 50 W HF-Verstärker.pdf
There is also an English version available, which contains all necesarry information for building the PA, but should nevertheless be read in conjunction with the document above:

50 W HF-PA engl.pdf
Weitere Informationen und Dateien, wie z. B. Messdaten, Materialliste, Bohrschablone etc. sind auf der Seite Downloads verfügbar.
Das Gehäuse kann von https://www.thingiverse.com/thing:2768290 heruntergeladen werden.